Transcripts and Worksheets
The PDF transcripts include full explanations, learning tips, additional vocabulary and grammar notes that are not available in the audio lessons. We announce the correct answers to the questions in the worksheets at the end of every lesson (starting from lesson 9).
What is a PDF lesson transcript?
PDF Transcripts are written texts of each lesson, they allow you to practice sentences and situational dialogs while listening to the audio lessons, so you can see how every word and expression is written in both Pinyin (Chinese Phonetic Alphabet) and Chinese Characters.
You can also take these materials with you and study at your own pace, anywhere you like!
All Transcripts are written in Pinyin, English, Simplified and Traditional Chinese Characters.
If you are serious about learning Chinese and want to progress quickly, please make sure you get the PDF transcripts of all lessons!
You can download your PDF Transcripts and Worksheets immediately after signing up.
To access the PDF Transcripts and Worksheets, please login.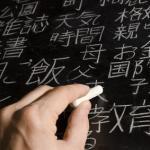 PDF Lesson Transcript (Sample) 
                     
PDF Lesson Worksheet (Sample)