Nihao (Hello) and welcome!
First, a little bit about myself and why I'm teaching Chinese. My name is Serge Melnyk, I'm the founder of this online Mandarin Chinese course. I'm producing a podcast to help people around the world learn Mandarin Chinese.
As for my educational background, I studied Mandarin for almost 25 years and spent the last 17 years living in China. Currently, I spend my time between Vancouver, Canada and Shanghai, China. I have a Master's Degree in Asian Studies and Chinese linguistics from a prestigious university and I used to work for many years as an educational director in the international school in Shanghai.
Summer, a native Beijing speaker and Pauline, a native of Taiwan are helping me with the recordings of most lessons in this online Chinese course, but you will also hear different voices and accents of Mandarin Chinese as well.
This course is created for anyone who is interested in learning conversational Mandarin Chinese, it has over 200 audio lessons and PDF transcripts that you can easily download from this Website.
All lessons are carefully explained in English, situational dialogues are translated, many practical examples are given in each lesson. Every lesson comes with a complete PDF transcript, stand-alone audio dialogue and a practice worksheet.
All lessons are theme-based and progressive, which means that you can start from "zero" level and after completing the course, you will be able to speak fluent Mandarin Chinese on a variety of useful topics.
A very important feature of this course is that you can spend as much time on each lesson as you want, there is no time limit or other requirements, just download your lessons with PDF transcripts and worksheets and start learning Mandarin right away, at your own pace, whenever you have 15-30 minutes.
Every new lesson is built on the vocabulary and grammar of the previous lesson. I recommend spending about a week on every lesson. There is a lot of review of the old vocabulary in the new lessons and all lessons are interconnected. In this course we are using a step-by-step approach, this method helps you to gradually develop and reinforce your listening and speaking skills in Mandarin Chinese.
You can download and take these online Mandarin Chinese Lessons with you on your iPad, iPhone or any other mobile device to study anytime, at any place, at your convenience. For example, many of my students find it convenient to study in the car while they commute to work, school etc. A new lesson on a different topic is produced weekly.
Become a premium subscriber now and get your 200+ Audio Lessons with full PDF transcripts, review worksheets, audio dialogues, videos and more. As a member you are also entitled to 24 hour support, so whenever you have a question or need assistance, we'll be happy to help, no matter what lesson you are studying or what level you are.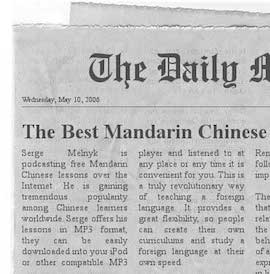 Women huanying ni! (We welcome you!)
Read what our students say…